I'll always remember as a young boy watching my grandfather sputter around in his new Amphicar! What's an Amphicar you ask? Well you can probably guess just by the name, yes it's a boat/car. Try explaining that to the DMV when you go to register your car….or wait boat…no car….anyway you get the idea.
We would take a Saturday afternoon, drive down to Utah Lake from my grandparent's home in Provo, UT. On our way we would stop by the BYU creamery and gramps would buy us a vanilla cone, and a rootbeer. Once we got to the lake we just kept driving, right into those blue waves. Usually grandpa liked to make sure he drove in where there were a lot of people around, that way we could enjoy their reactions.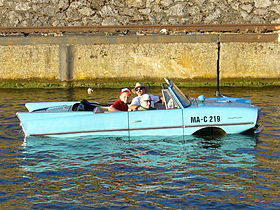 Well unfortunately my grandpa sold his Amphicar, and they have since become extremely collectible. In fact it's hard to find one in decent condition for under $100,000 nowadays. Well since I now had a void that needed to be filled, it's a good thing I have a MuddTrax made by LiteTrax.
The MuddTrax is not only fulfilling a childhood dream of owning an awesome tank looking vehicle, but the amphibious tracked machine also can traverse the land and sea, just like the old Amphicar! As you might have guessed the Muddtrax is a lot more resilient too, and not only takes on the paved road and water, but can tackle all sorts of off road terrain.
We recently went out one Saturday, I took my kids, we went to Dairy Queen, got vanilla cones and rootbeer, and took our MuddTrax out looking for good hunting spots. All the while we were in our Amphibious Tracked Machine I told them all about the good times I had with their great grandpa in his awesome Amphicar!